Breast revision, redo, or corrective surgery is designed to improve the shape and appearance of the breast when things aren't correct or have changed with time. Cosmetic breast surgery has very high success rates and safety. However, sometimes things don't heal well or turn out as planned. Also, with time the breasts can change and have problems that didn't happen right after surgery. I specialize in this revision or corrective surgery and this article is an introduction to some of the important concepts to learn about.
---
For those interested in more information and detail about breast revision or redo surgery, please go to my educational writings section. These are more in depth and focused. They will provide the interested patient with essential information and material that will help you learn and understand all the important features of these corrective breast operations.
This link will take you to the main menu, please scroll down to the topic of interest in the breast section.
---
Overview:
After breast augmentation, lifts, reductions, or other cosmetic procedures, results are usually successful and rewarding to the patient. But when things don't turn out as planned, it's important to see a doctor with the experience and expertise to help you. I specialize in exclusively cosmetic surgery and can help you navigate this unfortunate situation. Some of the revision surgery is more simple and sometimes it is more complex, so an in depth consultation is essential and mandatory.
The following two pictures are of one of my patients who required revision surgery. Her implants had become too low which is sometimes called bottoming out. The first picture shows two before images with her standing and lying down. The lying down image shows how her implant falls practically to the bed at her side. The second picture shows the patient before and after a capsule repair operation called a capsulorrhaphy.
I will review some of the more common issues that lead to desiring breast corrective surgery.
Breast Implant Exchange or Replacement:
Breast implants are not forever. This is an important fact. They can last decades and other extremely long periods of time. But they can "pop" or deflate and change too. If the implants deflate, then implant replacement or exchange is necessary. This essentially is talking out the old implants and putting in new ones.
Breast implant exchange is also commonly done to replace old saline implants. With time, saline implants often become visible. This is called rippling and can be very unattractive. Saline implants can also be easy to feel the edges or sides. This is called palpability. Exchanging the saline for silicone implants can dramatically improve these problems. This operation is commonly performed by me. The success and satisfaction is very high. This is because the breasts feel and look so much more natural. Silicone is so much softer that most women almost immediately notice the dramatic improvement.
As described above, exchange can be done for deflation or popping and also for visible implants. It is also done commonly for women who want a different size. This can be for both smaller and for larger breast sizes. This replacement operation is surprisingly easy. Since the pocket is already in place, the surgical dissection is much less and has dramatically less pain. The old incision is classically used so no new scars are needed. Recovery is often quick with people getting back to work and other responsibilities in 3-5 days.
Capsular Contracture or Hardening of the Implants:
A risk or problem that can occur after implants is the development of internal scar tissue. This is called capsular contracture or hardening of the implants. This condition is much more frequent when the implants are placed on top of the muscle. The problem can occur when the implants are beneath the pectoralis muscle, but this is much less frequent. The degree of scar tissue varies from minor to severe. In some cases pain can develop.
The main treatment for this scar tissue is surgical removal. This is called a capsulectomy. I recommend a complete capsulectomy to remove ever drop of scar tissue to get the best results. I also perform the En Bloc capsulectomy which I believe is the most advanced and meticulous way to perform the surgery. Risks of these revision surgeries are higher than the original breast augmentation. They must be learned and understood by the patient. Recurrence of the scar tissue afterwards is one of the big risks.
Implant Malposition:
Implant malposition means that after surgery breast implants can be too high, too low, or too far to the side. This is often called bottoming out. This can occur quickly after surgery but more frequently happens with time. One of the more common problems is the implants dropping too low and giving an unnatural appearance.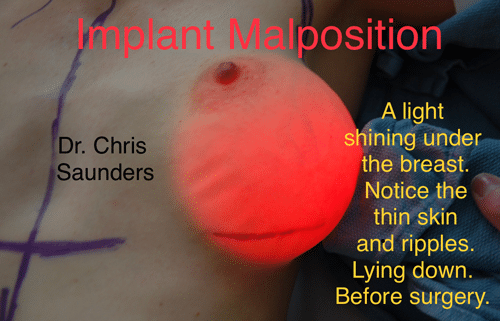 In cases where the implants are too low, surgery can be necessary. This would entail a capsule repair operation called a capsulorrhaphy. This operation repairs the capsule and repositions the implant into a more natural and attractive location. Sometimes the implants drop to the side or laterally. In these cases, capsule repair is required to push the implant towards the middle and back into a normal location. These operations sometimes require the use of surgical meshes to maximize results and success.
The operation for capsule repair has specific and extremely important after care instructions. I am a big believer that after care instructions are commonly not followed or not emphasized by the doctor enough. This can decrease success rates. By closely following after care or post operative instructions, I feel patients can significantly increase their results and success rates.
Breast Asymmetry or Unnatural Shapes:
Poor breast shapes or asymmetry can happen after implant surgery but also after breast lifts or reduction surgery. One side can be too large or nipples can be unacceptably different. Sometimes asymmetry with implants can occur after weight loss or gain or pregnancy. It is also possible that the breast drops off the implant and creates a double bubble appearance. Revision surgery can make major improvement in all these situations. The actual surgery will vary depending on the woman's condition. The consultation is critical to assess what has happened and what options are available.
Read what our patients are saying!
My experience with your office has been a pleasant and positive one. I truly appreciate all you have done for me…I will certainly recommend you to all my friends…."
Click here to read more reviews.
Summary:
I specialize in breast corrective or revision surgery. If you have problems after cosmetic surgery or changes have developed, please come in for a thorough consultation. I will discuss your situation and options in detail. If you have the feeling that nothing can be done, you might find that revision surgery can make a major improvement in your breasts and your happiness.